FAQ'S
---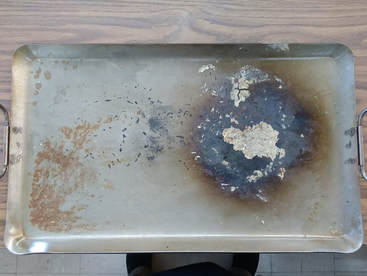 How do I season my griddle?
All of our griddles come unseasoned. This means that if you try cooking on your griddle without seasoning it first your food will stick. Here's how to get your griddle ready to go:
Wash your Griddle thoroughly to remove the grey residue. This is a food-safe rust inhibitor that has been applied to the surface of the griddle to keep it from rusting. (note: you may need to wash your griddle a few times to fully remove the rust inhibitor)

Promptly heat your griddle until dry by placing it in the oven on medium heat (350°) or place on top of stove applying even heat.

Apply a high temperature cooking oil such as Canola, Corn, Lard, or Shortening. Olive oil is not recommended for seasoning.

The oil will begin to smoke and the oil will turn brown. You have now started seasoning your griddle. We recommend using a spatula to properly distribute the oil. Seasoning your griddle in the oven for 15 minutes at 350° works best. (CAUTION: Use proper ventilation)

As you continue to cook on your griddle it will continue to season.
​
What is carbon steel?
Carbon steel is composed of about 99% iron and 1% carbon. It is a cooking surface used in homes and restaurants all over the world. Carbon Steel is known for being stronger than stainless steel and not brittle like cast iron. It reacts quickly to temperature changes and is able to withstand high heat. A carbon steel griddle will be heavier than stainless but lighter than cast iron. When properly seasoned carbon steel will take on nearly non-stick properties.
Read more about Carbon Steel
HERE
​
What can I do to avoid warping my griddle?
Our griddles are made of die pressed carbon steel. They are heavy-duty work horses in the kitchen. In rare cases we have seen warped griddles due to misuse. So here are our tips to avoid warping your griddle.
Always use even heating. If you have a 2-burner griddle, always use both burners on the same setting. If you have a 4-burner griddle and only want to use half of it, heat the other half as well. Using uneven heat warp warp your griddle over time.

Do Not Overheat. Our griddles are warrantied to 600° but we occasionally see griddles that have seen MUCH higher temperatures. We recommend using a surface thermometer and cooking at temperatures around 300° - 400°.

Do not throw frozen food on a super hot griddle. This will cause the steel to lift and over time the steel will develop "memory" and return to the warped position as soon as it is heated up.
What is the greasy film on my new griddle?
You may notice a grey residue on your griddle when you first take it out of the box. This is a food-safe rust inhibitor. Because our griddles are sold as unseasoned steel we must apply the food-safe rust inhibitor to ensure they do not rust while they are waiting for a new home. Although it is food-safe and not harmful if ingested, it may cause distortion of food color, and taste unless washed off before cooking. Use very hot water and a bristle brush with vigorous scrubbing. In some cases it may be necessary to wash your griddle multiple times before seasoning.
How do I wash my griddle after cooking on it?
Do not use soap or abrasive scrubbing. Simply rinse and wipe clean. Dry immediately after washing by placing griddle on low heat. (note: Failure to dry immediately may lead to rust on underside of the griddle). Apply oil with a paper towel and your griddle will be ready for you next time you need it.
Are Rocky Mountain Cookware products guaranteed?
All of our griddles and broilers carry a Limited Lifetime Warranty up to 600° against manufacturing defects. Warranty does not cover products that have been misused or abused. We believe that if properly used your griddle should be cooking for generations.
HELP! My griddle is rusty!
Rust can be removed with a scotch-brite pad and some elbow grease. Remember you can take it down to the bare steel and season it like it is new.
I seasoned my griddle but it looks splotchy.
Splotchy is ok. As the griddle seasons it will continue to build up a layer of carbon polymers. This translucent brown layer will become more uniform with use.
Are all Rocky Mountain Cookware Products made in USA?
YES! We are proud to manufacture ALL of our products in the Rocky Mountains of Montana.
---